VALENTINO ON CANVAS
The spirit of a gallery is also present with the Italian artist Gioele Amaro who will exhibit some of his renowned creations in the new Valentino Store from June 15th until July 15th 2023. The artist, that began his conversation with the Maison for the Resignify Exhibition in Beijing in 2021, has also conceived a unique artwork that will be revealed through a billboard at Avenue de L'Opéra from June 15th 2023.
Valentino, main sponsor of the Italian Pavilion at the 59th International Art Exhibition - La Biennale Di Venezia, continue its commitment to promote and sustain culture with projects such as Valentino on Canvas, with the aim of a cultural comeback and reciprocity.
Maison Valentino and Creative Director Pierpaolo Piccioli strengthen their commitment into fostering Arts and Culture. Artistic expressions and manifestations encounter again into the world of Valentino for the new Valentino On Canvas Advertising Campaign. Looking to its community, Pierpaolo Piccioli continues to convey the values of authenticity and individuality by creating, and not imposing, a conversation with diverse communication channels and artists. A new method of delivering messages through the brushstrokes of different personas through which the viewer is enriched by feelings and beliefs. Pierpaolo Piccioli believes art is a lens through which one can really touch the nature of the most intimate feelings.

For Valentino On Canvas, Maison Valentino has worked with three internationally renowned painters, Emilio Villalba, Giorgio Celin, Olga Pothipirom, giving them complete freedom to create a work reinterpeting Valentino Garavani One Stud bag from Valentino Rendez-Vous collection. The ethos of the artist through which the Valentino Garavani One Stud Bag find a dimension in its own personal way, for a unique inclusive and diverse yet very individual work of art.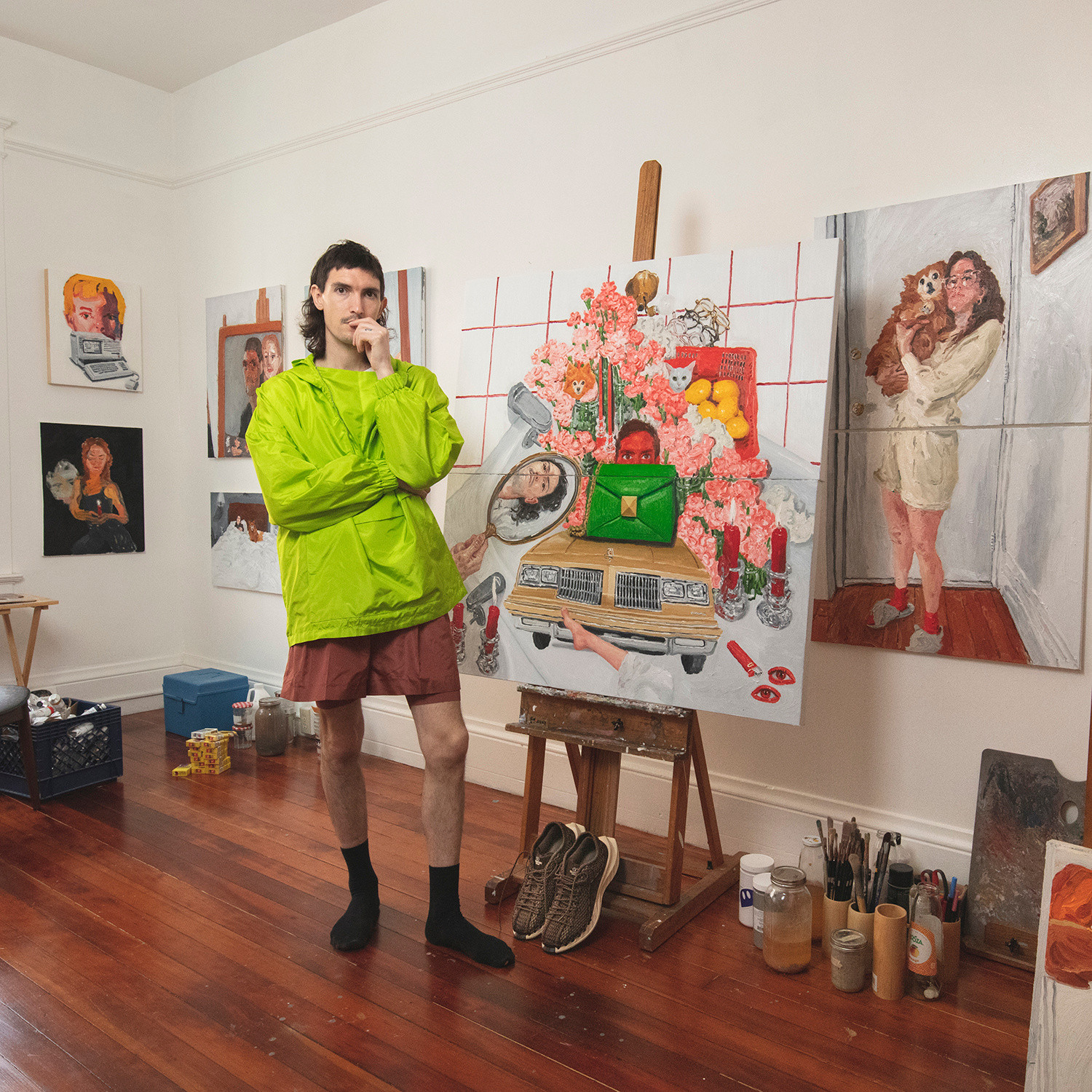 EMILIO VILLALBA
"The inspiration for my painting for Valentino started with the bag. I wanted the composition to support the bag while still tied to my overall narrative. My paintings often include subjects that are in my daily life, whether they are people or objects that I live with or things found on my daily walks. Each individual item was painted with love and oriented in a way to support the overall flow of the composition. Repetition in my work is a common theme, most of the objects in this piece have been painted before, I find it interesting to see how the objects evolve over time, either becoming more complex in form or minimal the more I paint them. I feel very fortunate to have been asked to collaborate and proud to be associated with the Valentino."
GIORGIO CELIN
"In my paintings I love to play with clothes. Being from an immigrant/ working class family, I was always very conscious about the power of garments and how you can change people's perspective on you just from the things you are wearing. I was happy to have the opportunity to paint one of my characters in association with a big brand like Valentino and to be the first Colombian to be part of this project."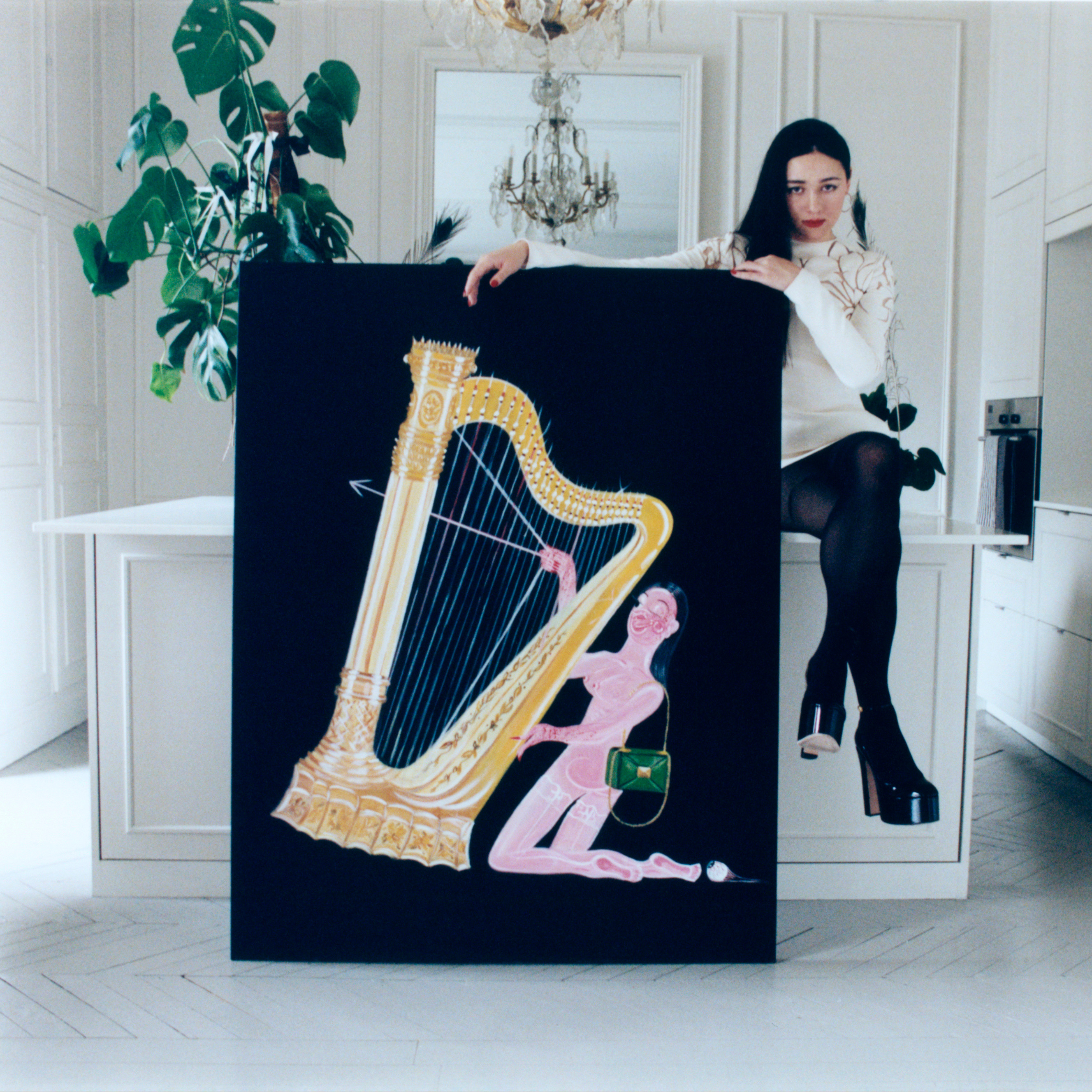 OH DE LAVAL
"The most important quality that my painting and One Stud bag share is strong first impression. Then comes the colours, the details and the classic touch. Made specially for Valentino On Canvas - a beautiful initiative that integrates fashion and art, painting titled "Broken girls blossom into warriors" should make you feel as powerful as wearing One Stud bag. Both are statement pieces that you'll think about long after you'll see it."
Emilio Villalba - Giorgio Celin - Oh De Laval