MAISON VALENTINO OPENS A NEW FLAGSHIP STORE
AT 654 MADISON AVENUE IN NEW YORK
Valentino opens the doors to its new Madison Avenue flagship store building on a new global retail concept established in 2022, focusing on unique spaces based on a reinterpretation of the building's structure through different sales experiences and approaches to interior architecture. Madison Avenue represents a key location for Valentino, marking an important strategic moment for its retail approach worldwide.
Set over three floors, that include basement, ground floor, a mezzanine ad a second floor, the nearly 1142sqm selling space faces Madison Avenue and 60th Street with imposing iconic columns and tall windows whose installations are designed to offer a glimpse into the materials and architectural silhouettes that form the essence of the boutique's interiors.

Each floor is centred on a distinctive visual narrative based on chromatic compositions and carefully curated materials palettes, with special attention given to the Maison's iconic use of red through an exploration of some of its most vivid declinations. Contrasts between rationalist architectural approaches coexist with warm, enveloping spaces whose personalities are driven by careful material and colour choices.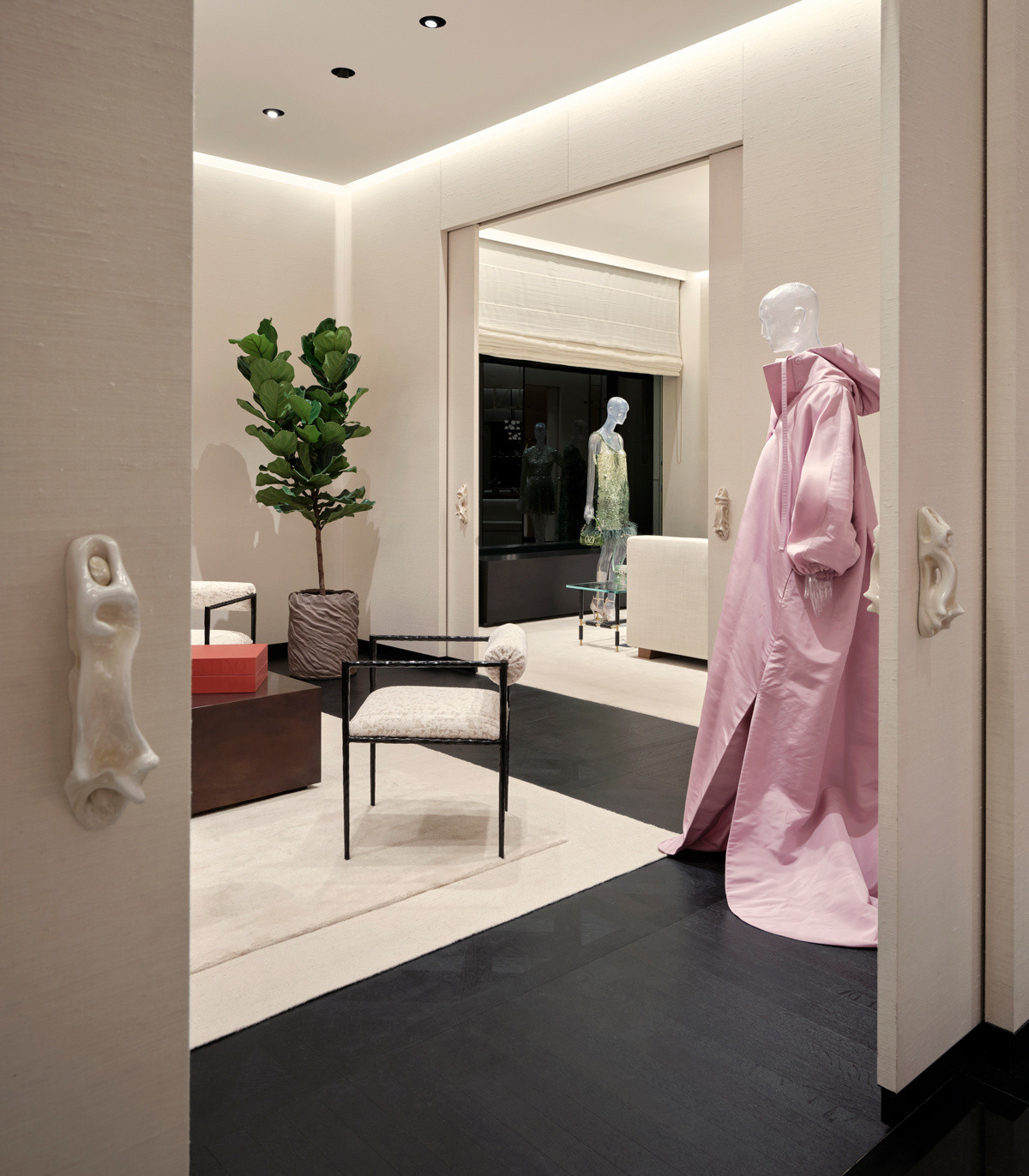 Customers enter through a pair of grand double doors with sculptural marble handles, their organic shapes modelled on works by artisan, whose work appears in different guises throughout its stores worldwide. The same handles with organic shapes are present inside the store made in ceramic and modelled by the ceramicist Massimiliano Pipolo.
Once inside, the monumental nature of the building reveals itself, with seven meters high ceilings, exposed iconic steel columns (running across all floors) and a rough concrete finish over the perimeter punctuated by illuminated shelving for Valentino Garavani Accessories. The space is divided into different functions through bespoke elements that include an imposing green onyx display unit placed at the centre, and different materials and textures such as marble carpets and concrete on the floors, outlining areas and functions.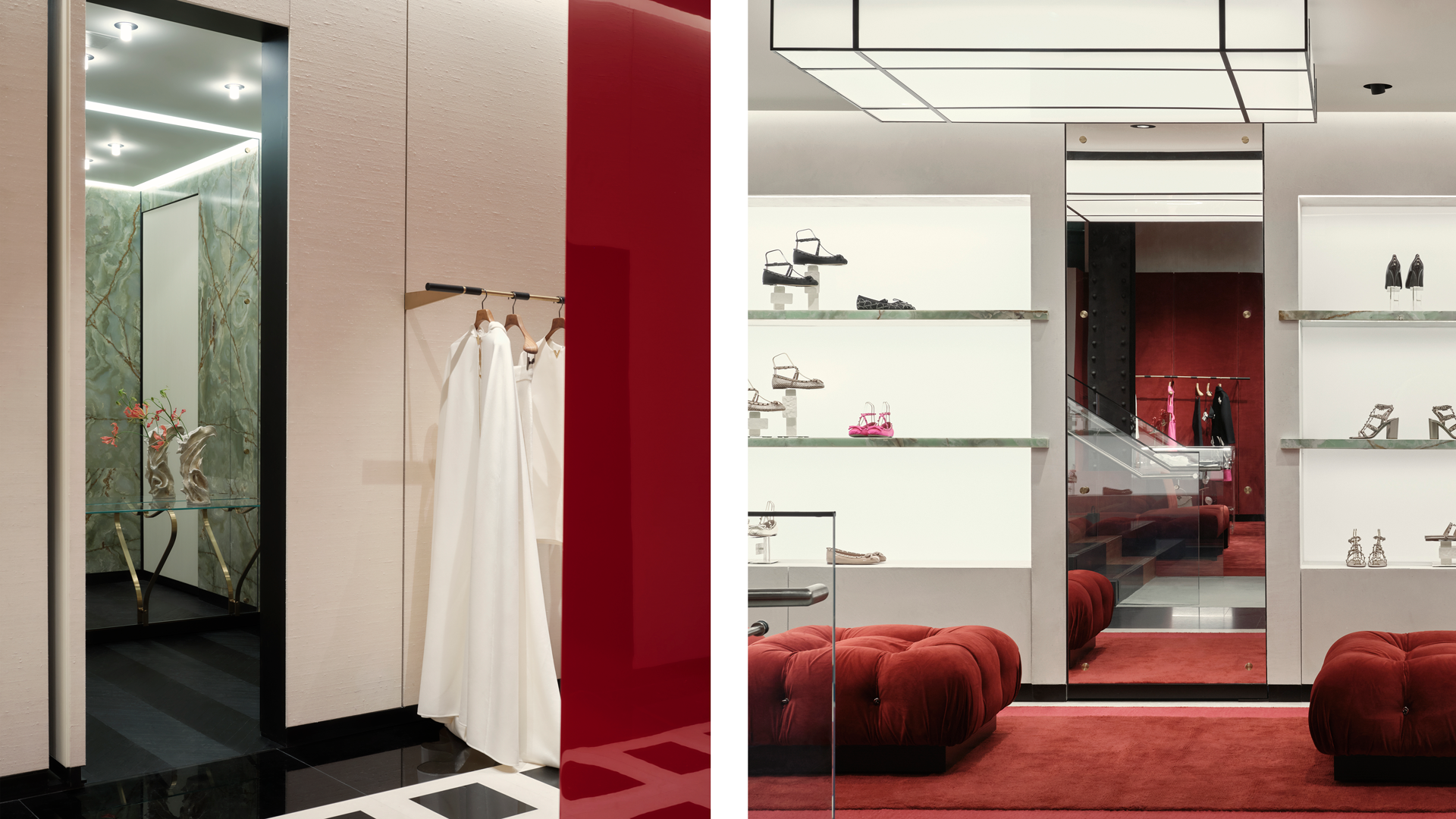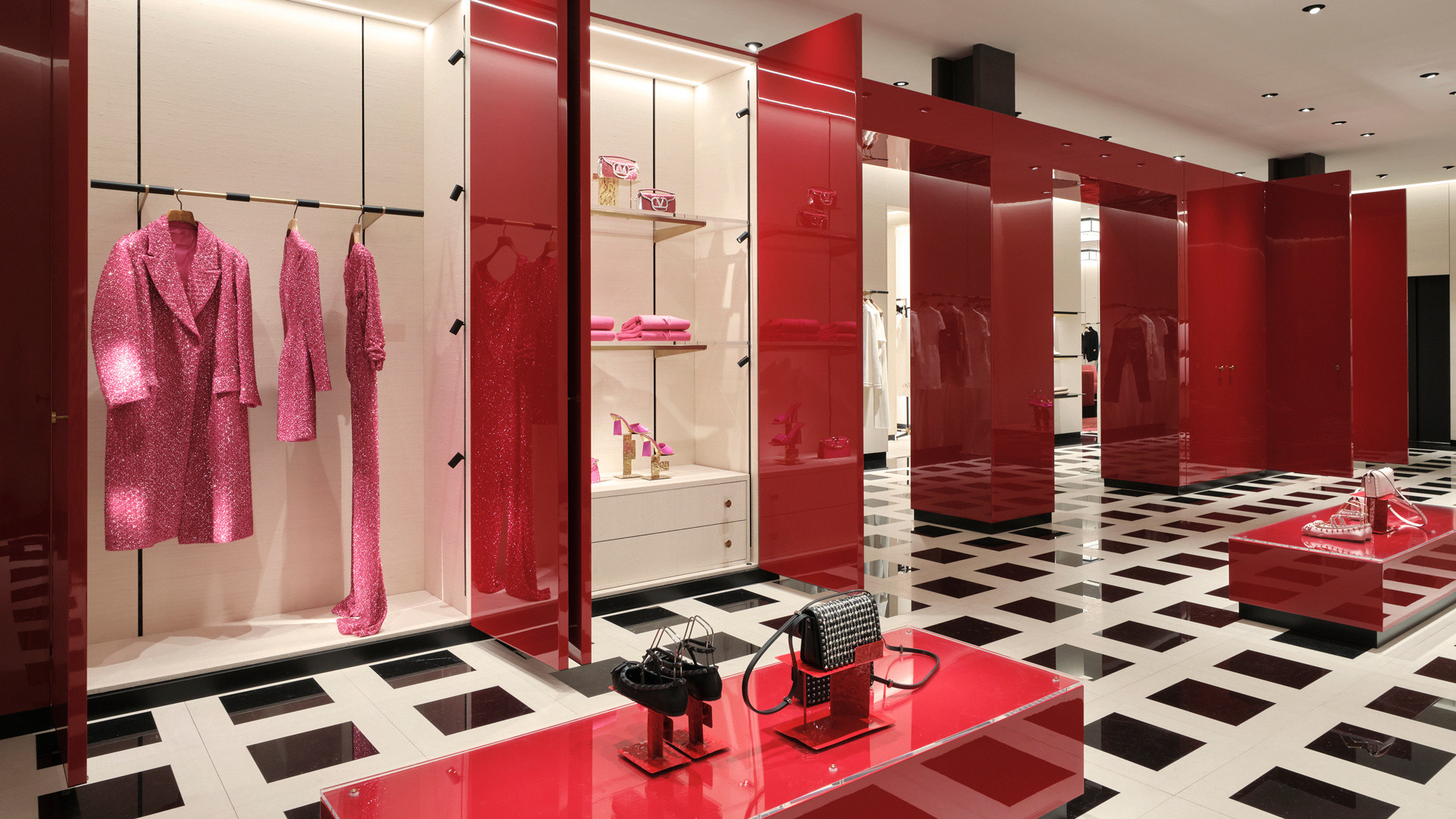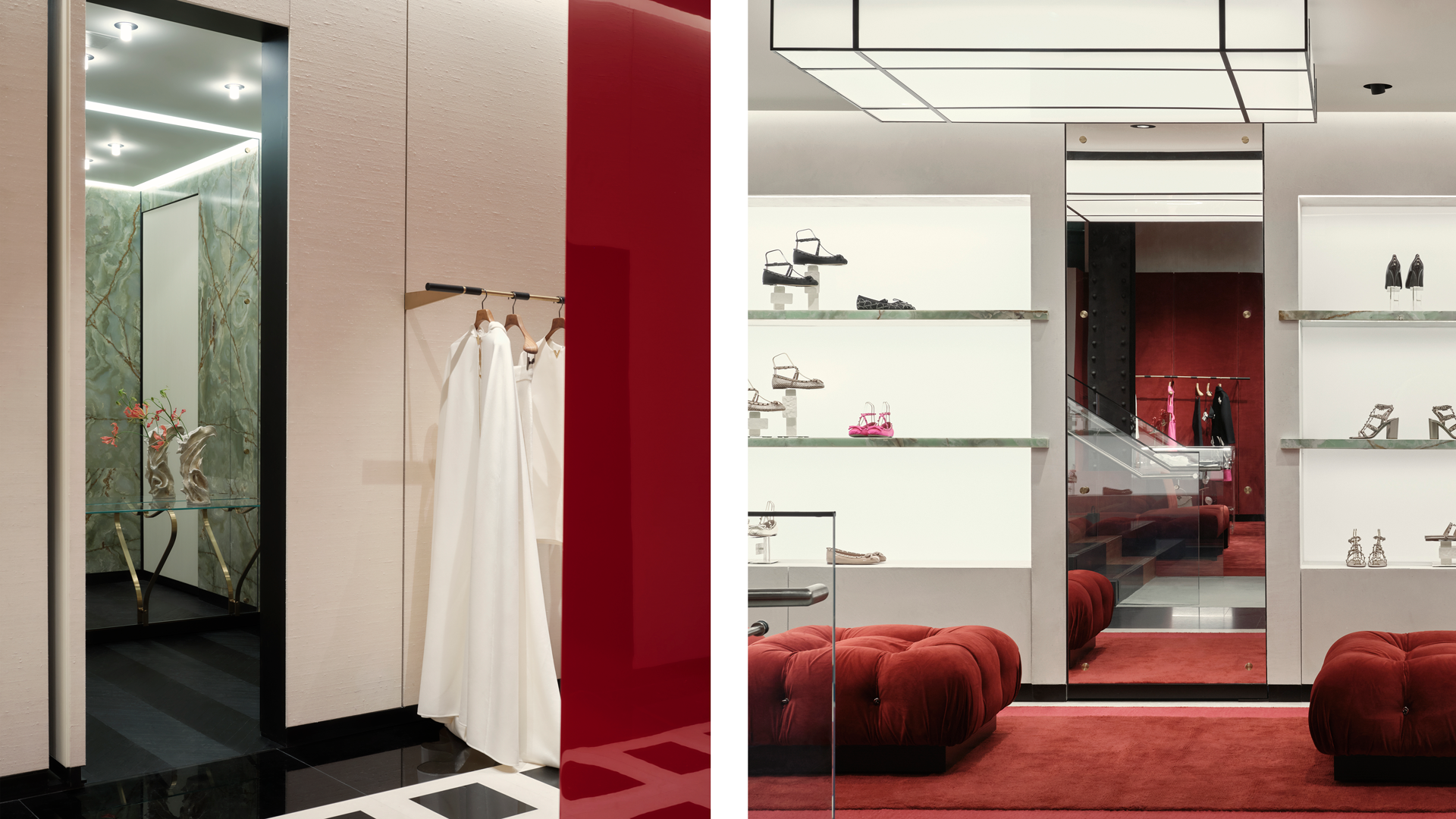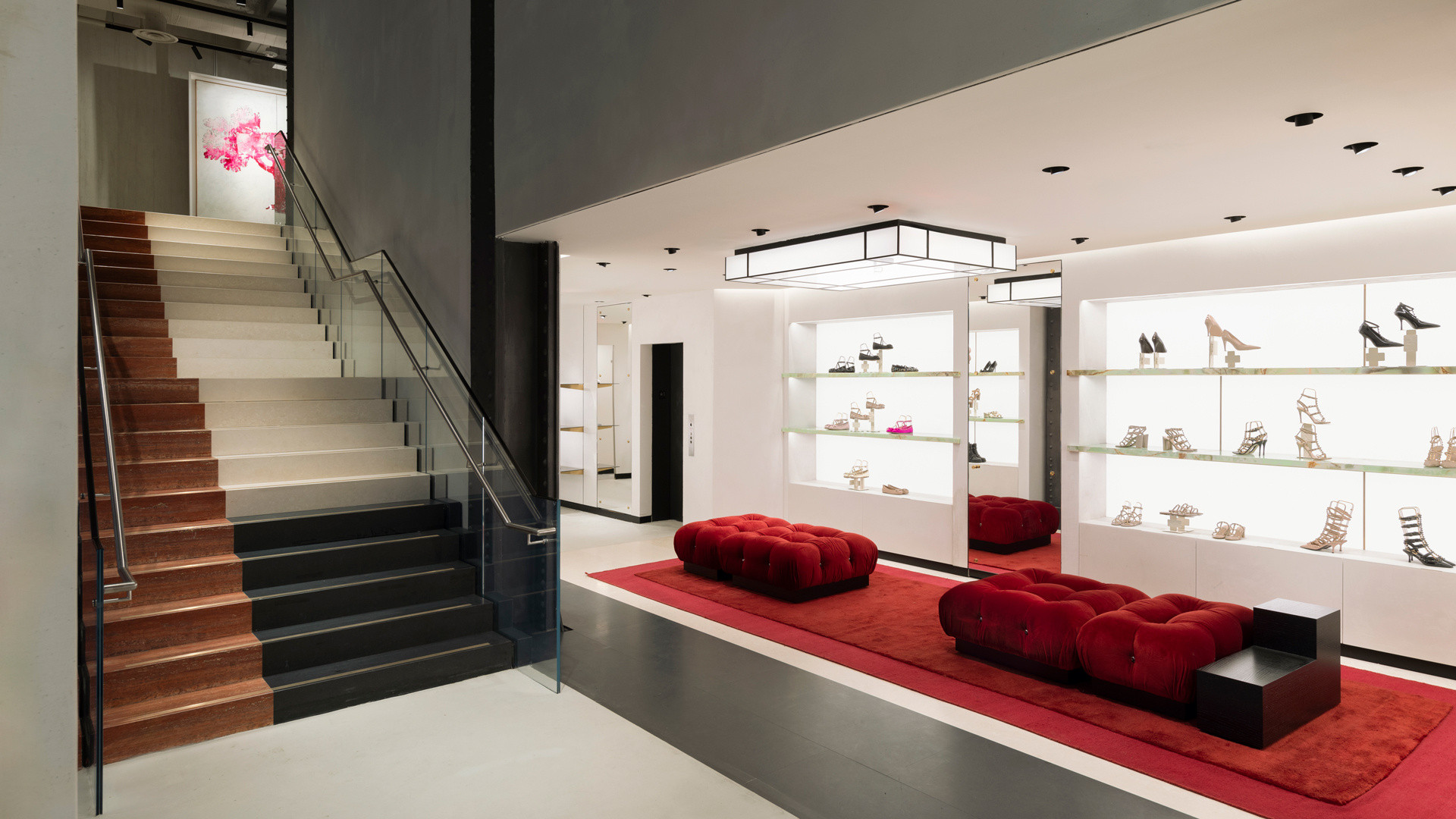 At the back are several interpretations of the iconic Rosso Valentino. On the right is an area for footwear with floors and seating in a travertine red contrasting with the luminous onyx and concrete shelving. On the left is an area dedicated to the brand's ready to wear offering, separated from the main store by concrete shelving. Once inside, an immersive, box-like effect is reinforced by the red velvet cladding walls and bespoke seating.
Leading upstairs is a monumental staircase that anchors the space from the back, with a rationalist, asymmetric composition of marbles, including red Travertino, white Botticino and black Nero Marquina. The staircase's red stone forms the perimeter of the adjacent ready to wear box, an example of how ongoing conversations of materials and palettes contribute to the eclectic narrative throughout the interiors.

On the second floor, Valentino Women Ready – To – Wear collection displays are defined by a giant red lacquered wardrobe structure and matching seating, contrasting with the chequered floor in white Botticino and black Nero Marquina marbles.

Here, customers can also experience Valentino's unique client journey inspired by Italian hospitality, with two VIP areas in which the ivory environment references the Maison's ateliers. Each featuring a sitting room and dressing area including a separated try-on, the rooms are designed to enhance the feeling of intimacy and exclusivity within a carefully curated, apartment-like setting. Bespoke seating and furniture are combined with contemporary chandeliers by American lighting specialist Roll & Hill, chairs by Charles Zana and ceramic objects by Massimiliano Pipolo enhancing the sophisticated domestic effect of the environments.

A different colour narrative is found descending through a sophisticated Botticino and red Travertino, Marquina stairs into the basement, dedicated to Valentino Menswear and defined by a distinctive chromatic and material choices including stark concrete and black parquet with brightly illuminated shelving. Next door, a warmer environment is achieved with lilac flooring matched with mirrored columns, bespoke glass displays and angular green onyx shelving. An iconic 1970s DeSede Snake Sofa adds an intimate dimension to the space, while Mario Bellini's 1970s Camaleonda sofas and pouffes from the same era appear throughout the boutique.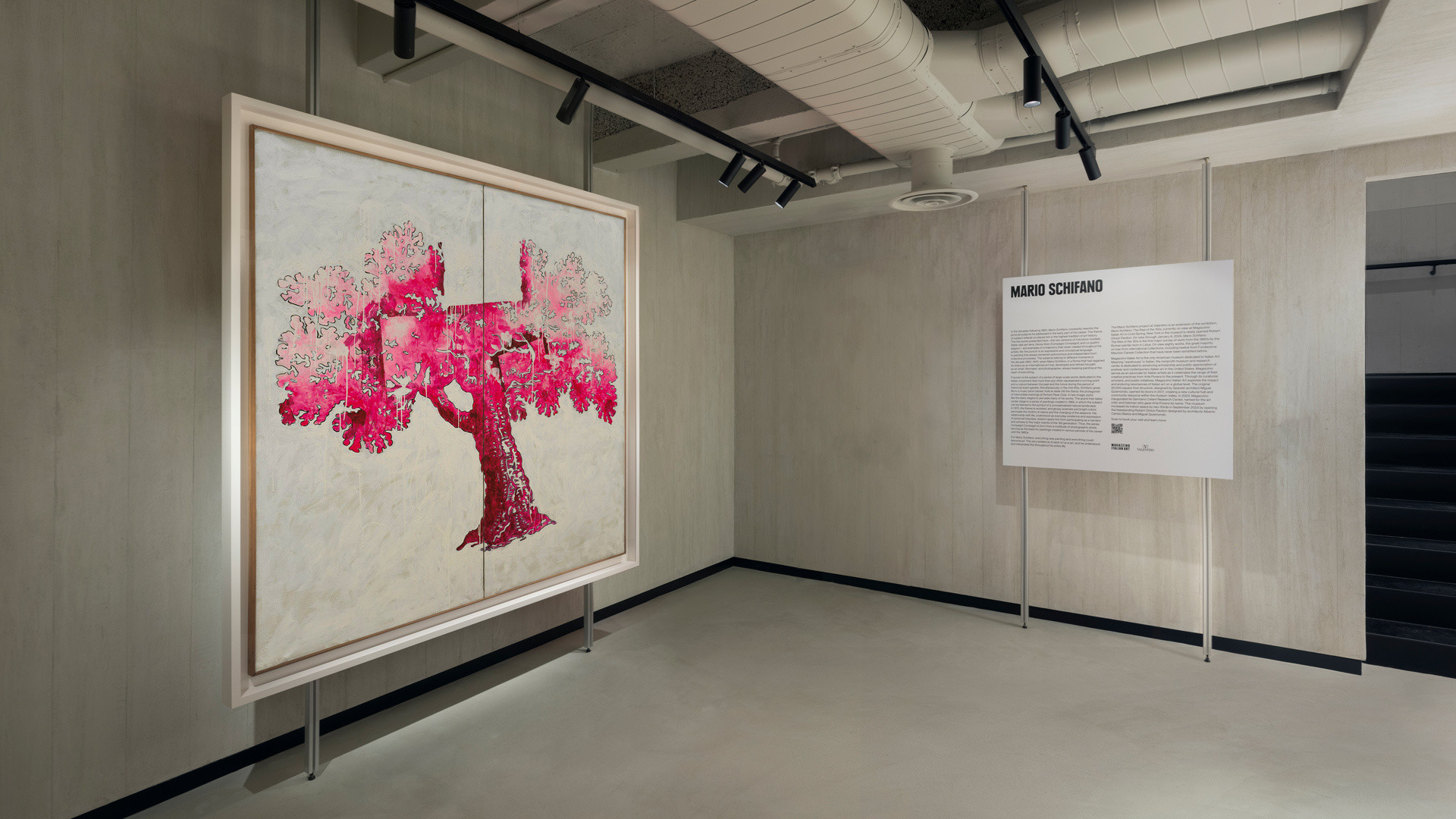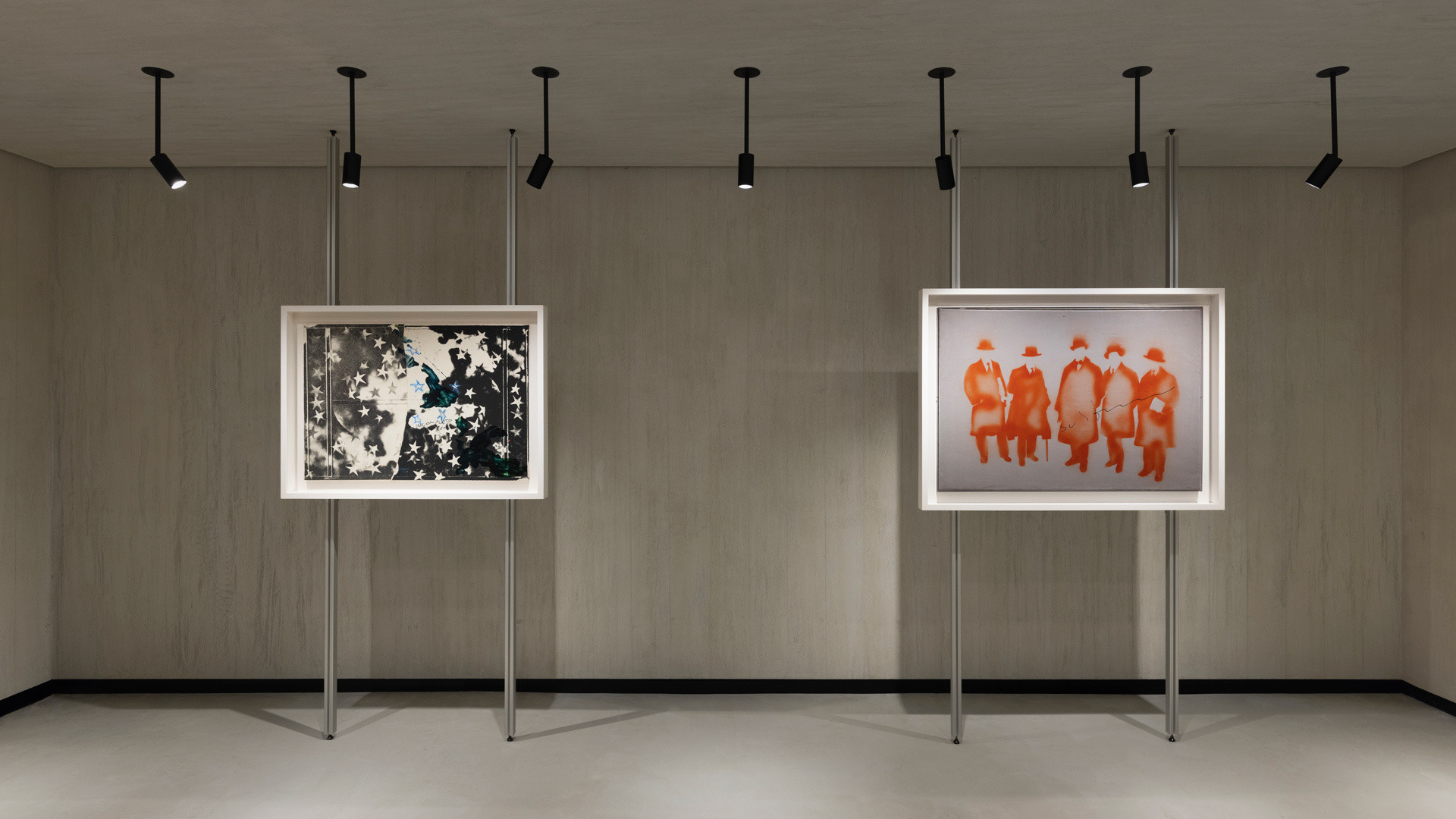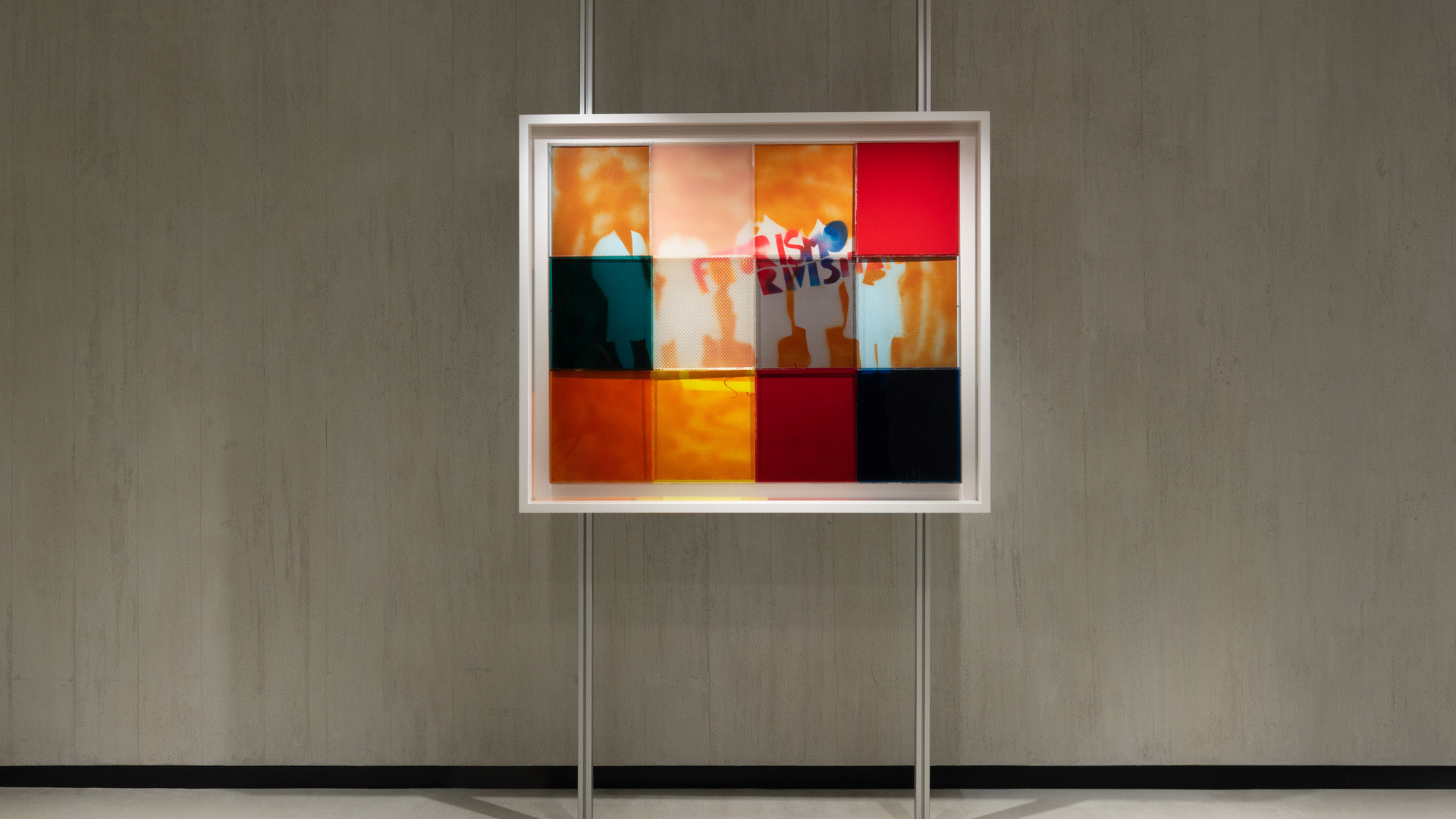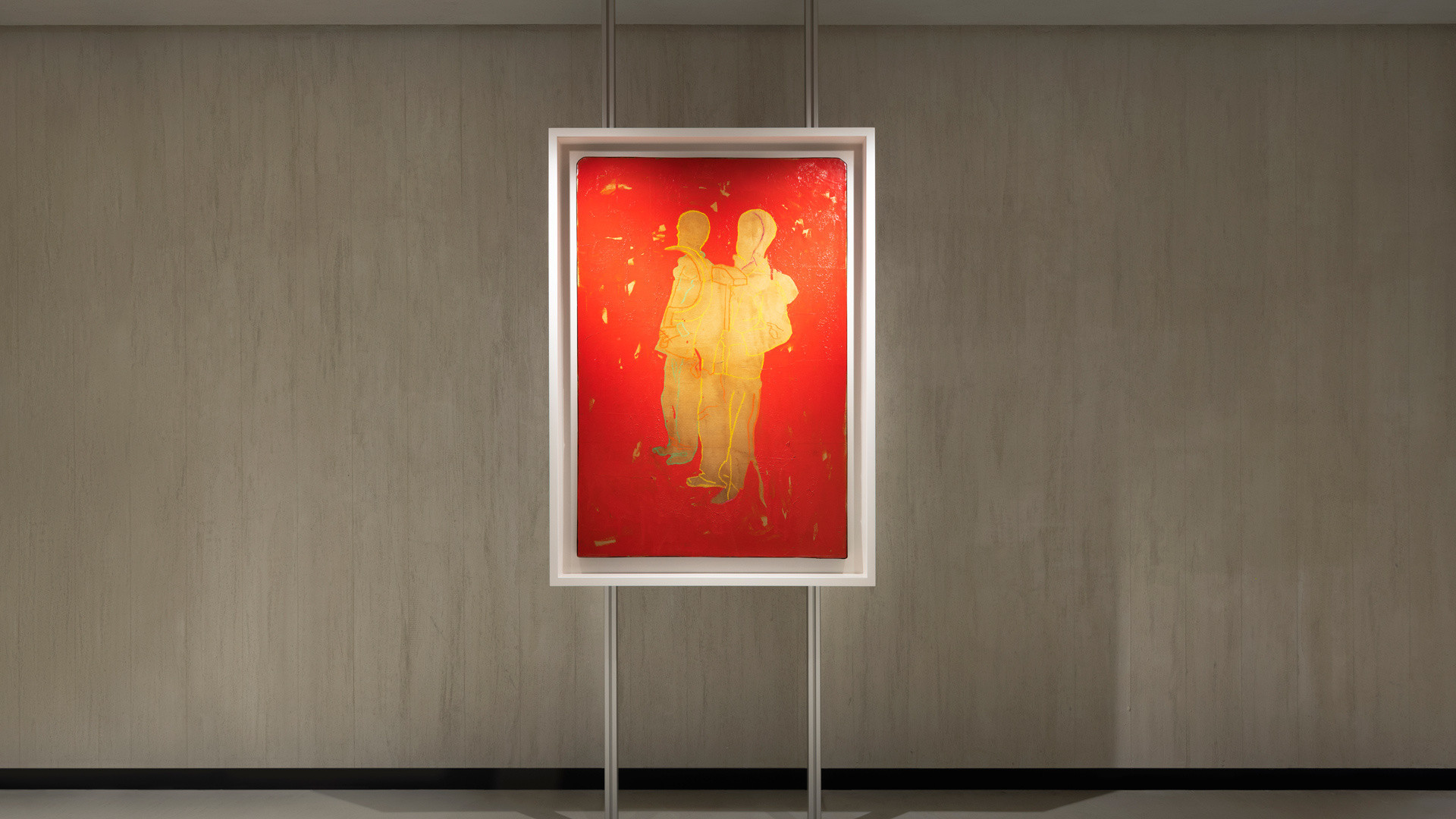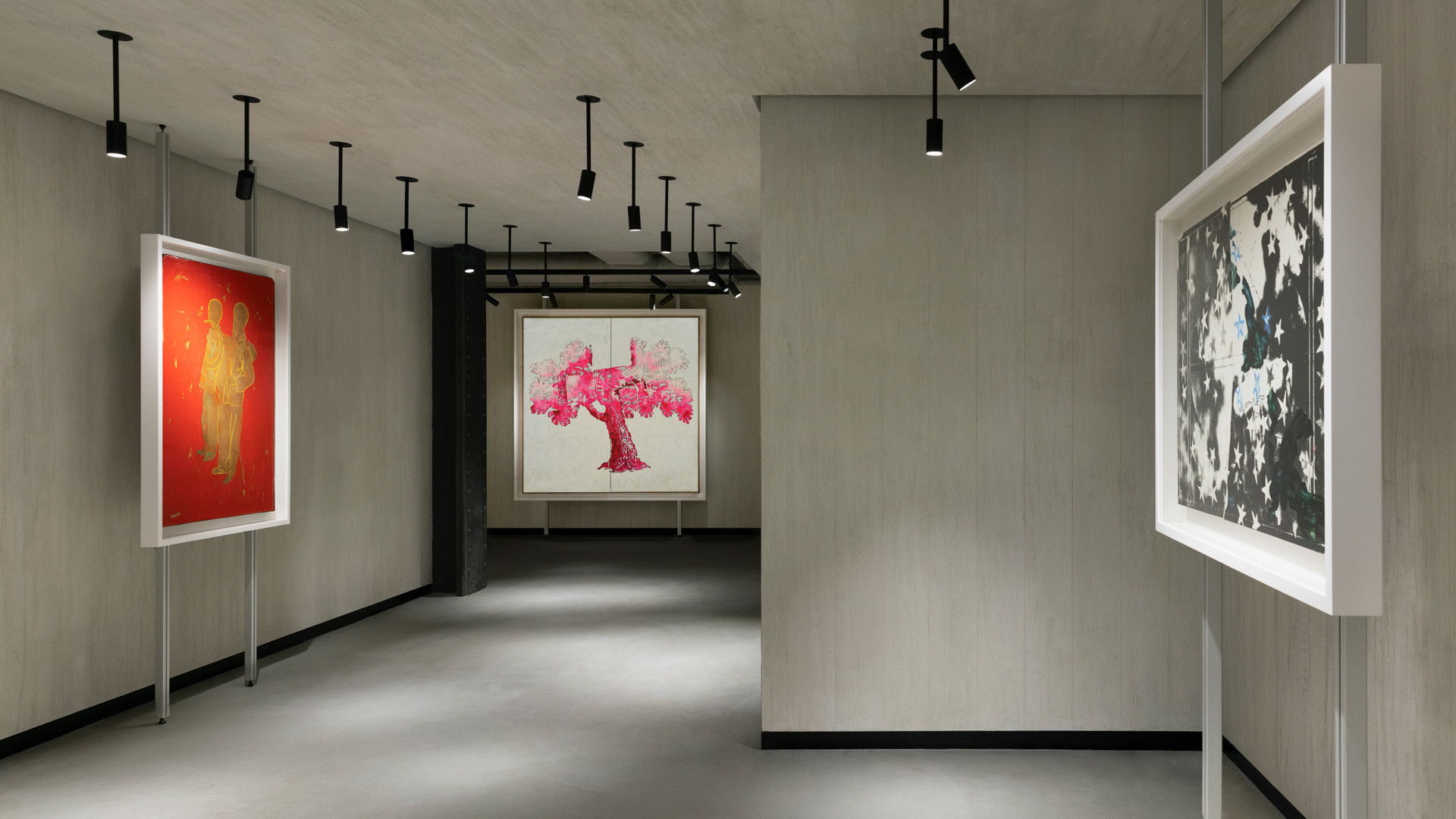 The building's mezzanine is a concrete box facing the boutique's ground floor on one side; it will be dedicated to temporary art displays amplifying the work of a diverse roster of galleries and institutions. The space makes its debut through a partnership with New York museum Magazzino Italian Art. As the Madison Avenue store opens its doors, the gallery presents Mario Schifano's large-scale paintings, a collaboration that strengthens Valentino's ongoing commitment to global art and visual culture.
The Valentino new Flagship store in Madison Avenue will be open on November 8th 2023, to public.